Welcome to Chabad at Monterra Hebrew School, an exciting and innovative educational program in Southwest Broward. Our school enjoys a well-earned reputation as a trend setter in creative Jewish education for children in Kindergarten through 5th Grade.
Meet Our Staff
Our Directors: 
Rabbi Adi and Malky Goodman
Meet Rabbi Adi and Malky Goodman, the dynamic duo behind the Cooper City  Ckids Hebrew School. Since their marriage in 2005. they have been dedicated themselves to the Jewish community and education. Together with their six children they are the directors of Chabad At Monterra in Cooper City, FL.  and have had the great merit of educating 100's of students over the years, instilling a healthy foundation of education to our youth.

Born in Baltimore Maryland, Rabbi Adi's passion for teaching began early in his rabbinical studies, and he has been directing the Hebrew School since  his rabbinical internship in 2001. His educational career has spread throughout south Florida and is now devoted to the educational needs of Cooper City and surrounding areas  His expertise and experience shine through in his creative teaching techniques, ensuring that each student receives a fun, comprehensive and, engaging education.

Malky, alongside Rabbi Adi, brings her own unique talents and skills to the Hebrew School. Her warm and nurturing nature creates a loving and supportive environment where every student feels valued and encouraged to grow.

Together, Rabbi Adi and Malky go above and beyond to offer their students an educational experience that lasts a lifetime. Their unwavering dedication, coupled with their love for their students, fosters a deep connection to Jewish heritage and values.

Rabbi Adi and Malky Goodman are the driving force behind a Hebrew School that not only educates but also inspires. Their commitment to providing a nurturing and meaningful educational experience is truly commendable, making them invaluable assets to our community.
Director of the Hebrew Program:
Morah Yifat
Morah Yifat is an exceptional educator who serves as the dedicated Director of the Hebrew Program. With a wealth of teaching experience from Israel, she brings a unique perspective and a deep understanding of the importance of education.

Morah Yifat's commitment to each student's growth in reading is truly commendable. She goes above and beyond to work one on one with every student, ensuring that they receive the individual attention and support they need to thrive. Her passion for teaching shines through in every interaction, inspiring her students to develop a love for learning. Morah Yifat's dedication, expertise, and genuine care for her students make her an invaluable asset to the Hebrew School Program. 
Our Teacher's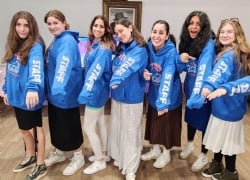 Meet the extraordinary teachers of our Hebrew School, who hail from the prestigious Teachers Seminary and come from all corners of the globe. These dedicated educators devote their Sundays to our students with boundless energy and enthusiasm. Their loving and warm approach creates an atmosphere of inspiration and admiration, making them true role models for our young learners.

At our Hebrew School, we are privileged to have a diverse group of teachers who bring their unique backgrounds and experiences to the classroom. Each teacher's journey to our school has been shaped by their time at the esteemed Teachers Seminary, where they have honed their pedagogical skills and deepened their understanding of Jewish education.

What truly sets our teachers apart is their unwavering dedication to our students. They pour their hearts into their work, ensuring that each child feels seen, heard, and valued. With their infectious enthusiasm, they ignite a passion for Jewish learning in our students, making every Sunday a day filled with excitement and growth.
Our Curriculum:
Welcome to our curriculum at Chabad at Monterra! Our main goal is to ensure that every student graduates with a positive outlook on Judaism's traditions, Hebrew Reading, Israel and Mitzvoth, providing them with a strong foundation for their future.

In our Hebrew Reading course, we use a unique approach called Aleph Champ. Similar to karate, students earn different levels, allowing them to become proficient readers of Hebrew at their own pace. Our ultimate goal is for each student to read 60 Hebrew words per minute, empowering them to engage with the language independently.

We believe in hands-on learning with a connected mitzvah. When exploring historical events, we incorporate a mitzvah component, enabling our students to appreciate the idea that stories from the Torah hold valuable lessons for us today. Through consistent prayer practice, our students learn how to navigate through the prayers, developing a meaningful connection with their spirituality.

Holidays play a significant role in our curriculum. We ensure that our students understand and embrace the ins and outs of each holiday, fostering a deep understanding and appreciation for their significance.

Our approach is consistent and fun, providing students with a wonderful and proven educational experience like no other. We are committed to equipping our students with the knowledge, skills, and enthusiasm to embrace their Jewish heritage and contribute positively to the world around them.