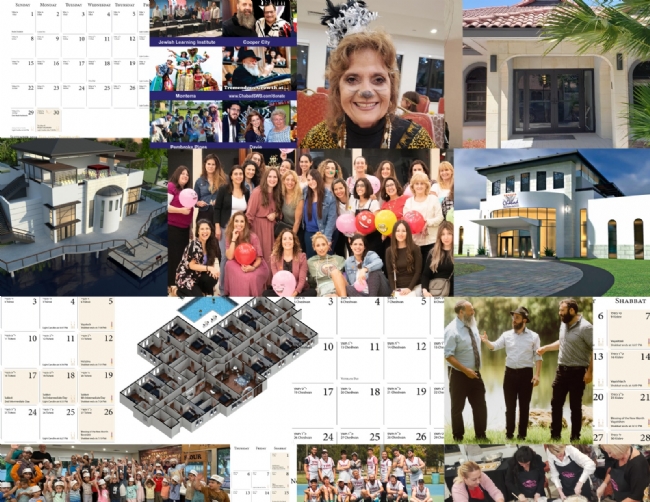 The 2023-2024 Jewish Community Calendar
Reaching thousands of homes and businesses in Southwest Broward 
Dear Friends,
We are putting together our beautiful annual Chabad Jewish Community Calendar for the new year 5784 (2023-2024).
The Calendar is a wonderful way to show support for the incredible work we do, allow us to share in your simchas and important dates (such as, your family birthdays, anniversaries and yahrtzeits) and is also an effective way to introduce your business and get your business noticed in thousands of homes and offices throughout the community, for the entire year.
The full-color calendar is filled with beautiful pictures of community happenings and events, historical facts, Shabbat and Holiday information and much more! It has become a staple in countless homes and businesses in the area and is the perfect place to get on board and show your support for our community!
Unlike other advertising methods which have a very short lifespan, your community neighbors and potential customers will view the colorful and informative calendar throughout the whole year. This ensures optimal visibility for your product or service and will provide maximum exposure for your advertising dollar!
The Calendar is also a perfect way to keep track of and share your family's birthdays, anniversaries and yahrtzeits. Personal inscriptions are as low as $25 each.
With the purchase of the new campus, advertising in the calendar is a perfect way for you to support Chabad's work, while enjoying the benefits of having your important personal dates and business listed.
Please participate in this meaningful fundraiser to help us raise the much needed financial funds crucial to the continuity of our vital work in the Jewish community.
You should know that it is only thanks to your partnership, that thousands are engaged during the year through vital social services, youth programs like Hebrew School, C-Teen and Bar/Bat Mitzvah Clubs, adult education, Jewish lifecycle services, holiday programs and community outreach.
We ask you to please join this effort and generously contribute to the Calendar Campaign!
Click here to fill out the information for your desired personal inscriptions and/or full color business ads.
The deadline for the calendar ad form is Friday, July 21, 2023 to ensure a timely printing.
If you would like more information or if you have any questions about what Chabad does in our community, you are welcome to visit in person or call (954) 252-1770.
or visit our website, www.ChabadSWB.com/calendarform. 
Thank you and best wishes for a healthy, happy and enjoyable summer.
Sincerely,
Gitty Andrusier
Calendar Coordinator